Level Gauge With Transmitter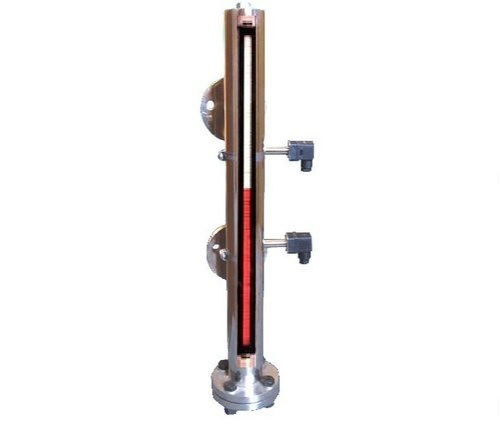 Level Gauge With Transmitter
Product Description
Magnetic Level Gauge
is a most reliable type of instrument where the direct level measuring is required.
We can be provied it with level transmitter aslo.
Features:
Construction material SS.
Easy mounting with (Customised) flanged connection
Low maintenance coast.
Continuous level monitoring (with use of transmitter 4-20mA output)
Direct visible level indication in PLC or Controller.
Safe for corrosive,toxic,flammable liquids.
Available in different range & types of materials.
No process fluid in contact with the level indicator.
Economical measurement solution.
Safe for high temperature, high pressure applications.
Perfact level indication without power supply.
Available in following types:
With customized length and process connection.
Bicolour flapperType / Capsule type
Top Mount Type / Dipstick type.
Side mount type.
with in built Transmitter
with adjustable switch.
Product details
| | |
| --- | --- |
| Float Chamber Pipe | 2" or 2.1/2" NB |
| Roller Pivot | Delrin Bush |
| Brand | D B Instruments |
| Glass Material | Acrylic |
| Material | Stainless Steel |