Tubular Level Gauges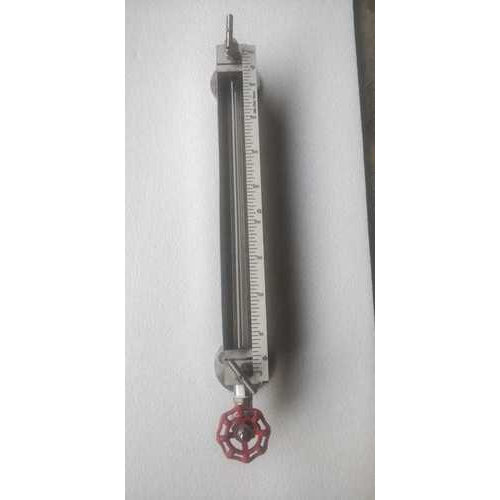 Tubular Level Gauges
Price And Quantity
Piece/Piece

1250.00 - 1550.00 INR
Product Specifications
Petro Chemical Plants Pharmaceutical Manufacture Chemical Processing Water Engineering Textile Industry Food And Beverages Industry Mechanical Engineerin
Product Description
Tubular Level Gauges
Utillising the basic principle of liquids find their level tubular level gauges have been the most economical means of direct liquid level indication since time immemorial. Various means of glass tube protections- 3 plate glass protection, 3 guard rods, pipe guard or C-channel protections are in popular use. Our level gauges have C-channel protection of 2 mm thick sheet metal, making it robust and sturdy.
A black powder coated aluminium engraved scale with white numerals & markings is provided for indication of the level of liquid in millimeter or Litres as required. Scale shall have minimum graduation of 5 mm. isolating needle valves with safety ball-check protection to prevent spilling/leakage by automatic shut-off in the event of glass tube breakage- are optional features
Optional Accessories
Vent Cock Valve/Drain Cock/Vent & Drain Needle/Ball Valves
Gauge Isolating Needle Valves.
Gauge isolator valve: SS 304/316 solid barstock needle valve,offset type with safety ball-check protection and process connection as above (please specify).
Technical specification

Process Connection

Threaded or Flanged

Connection Size

1/2 or 3/4" BSP(M) or Flanged to 3/4" or 1" ASA 150 Lbs as standard (Please specify other connections ,if required)

End Connection MOC (Wetted Parts)

Mild Steel Grey powder coated / Chromium plated MS / SS 304 / Ss316 / PVC/ FRP

Gauge Glass

19 mm H/W borosilicate glass tube.

Glass Tube Protection

C-Channel of Grey powder coated or Chromium plated MS / SS304 / FRP Or SS316. (Size: 45x65x2mm)

Flange Gaskets

CAF-Acid alkali style 60

Scale

Black powder coated aluminium with white numerals & markings.

Vent& Drain Plugs

1/2"BSP(M)

Bolts & Nuts

HT bolts & nuts/SS 304
Maximum working pressure-10 kg/sq.cm (depends on length)
Maximum working temperature-100 deg C (Maximum length in single piece-2500 mm)
Product details
| | |
| --- | --- |
| End Connection MOC Wetted Parts | Mild Steel Grey powder coated / SS 304 / SS316 / PVC/ FRP |
| Gauge Glass | borosilicate glass tube / Polycarbonet |
| Glass Tube Protection | C-Channel of powder coated or Chromium plated MS / SS304 / FRP or SS316. |
| Country of Origin | Made in India |
| Brand | DB Instruments |
| Drain Connection | Flanged |
| Drain Connection Size | 1/2 inch |
| Gasket | CAF |
| Glass Material | Borosilicate |
| Process Connection | Threaded or Flanged |
| Scale | Black / White Acrylic |
| Vent Connction size | 1/2 inch |
| Vent Connection | Flanged |
| Vessel Connection Size | 1/2 inch |